Digital Edge secures its first-ever green loan to finance the development of South Korea's largest commercial colocation facility
Digital Edge secures its first-ever green loan to finance the development of South Korea's largest commercial colocation facility
Published November 14, 2023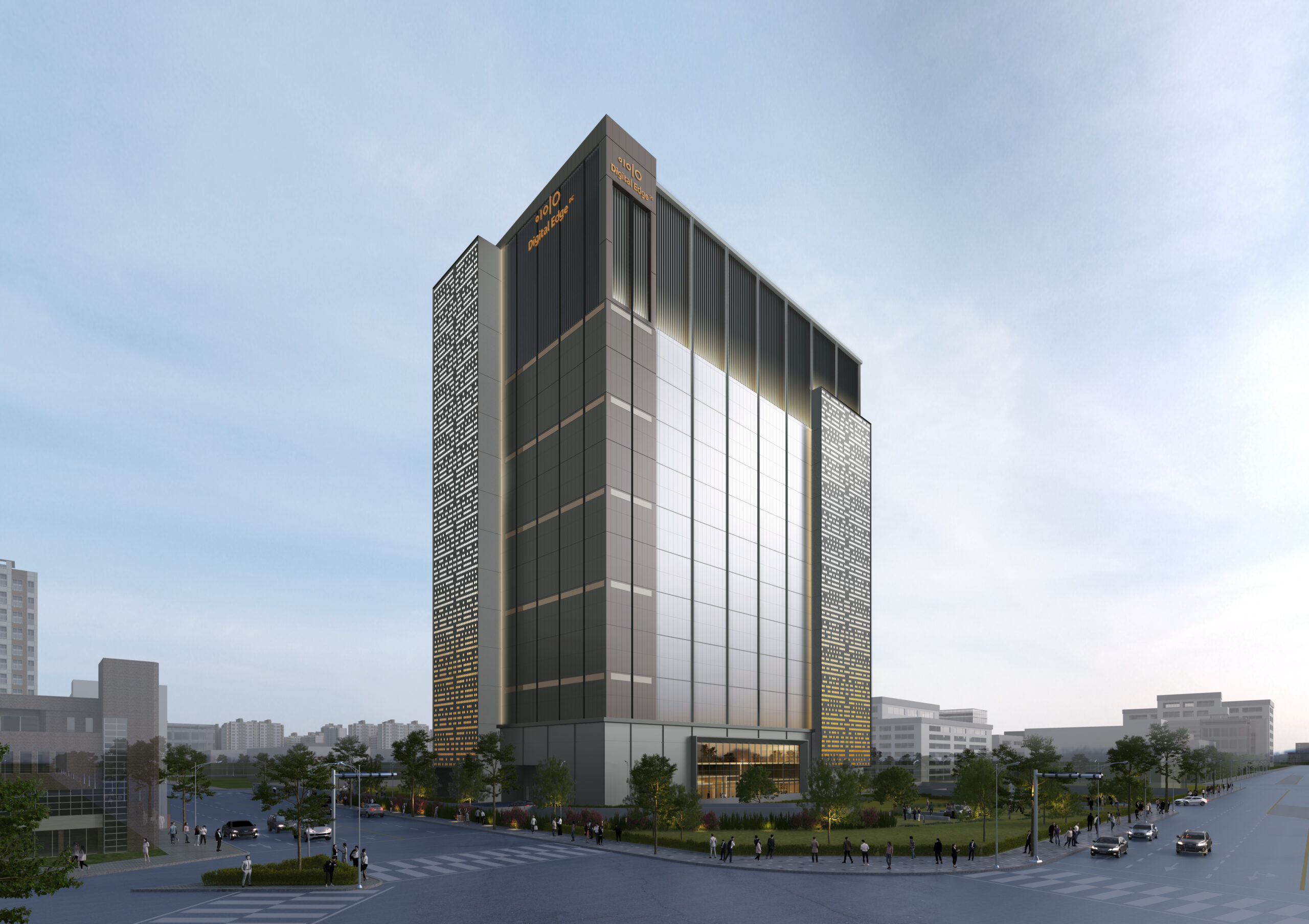 KRW 440 billion (USD 335 million) of green financing to support the company's previously announced SEL2 data center
(Singapore, Tuesday 14 November 2023) Digital Edge (Singapore) Holdings Pte. Ltd. ("Digital Edge") today announced it has successfully secured the platform's first-ever green loan to support the first phase of development of the company's previously announced 100MW data center project in Seoul (known as SEL2), which will be the largest commercial colocation facility in South Korea. This financing also represents the first green loan for a data center project in South Korea[1].
SEL2 will leverage Digital Edge's next generation architecture to achieve market-leading standards of energy efficiency, including realizing an annualized design PUE (Power Usage Effectiveness) of 1.27, significantly below the global industry average of 1.55[2]. The company will utilize state-of-the-art Bloom Energy fuel cell technology to reduce greenhouse gas emissions and generate electricity with more predictable energy costs and greater reliability to power the general lighting and energy for the data center's shell and core, and will implement a highly efficient engineering design to minimize water and energy usage. The energy efficiency objectives for SEL2 are aligned with Digital Edge's commitment to be a carbon neutral data center platform by 2030.
Digital Edge's Chief Financial Officer, Jonathan Walbridge, commented, "We are delighted to have secured this financing to support the continued expansion of our business across Asia, as SEL2 marks Digital Edge's third data center facility in South Korea. Our first green loan is a key milestone in our growth journey and is evidence of how the economic performance of our platform goes hand in hand with our commitments to sustainability. We are excited to progress our Seoul project and bring world class digital infrastructure to this thriving market."
"We share Jonathan and the Digital Edge management team's excitement about the green financing for SEL2, which is a testament to Digital Edge's ability to execute projects abiding by the highest environmental standards while also prioritizing the needs of its customers," said Andrew Thomas, Stonepeak Senior Managing Director. "We look forward to continuing to support the company as it further scales the platform and brings new colocation and interconnection services to the Asia Pacific region."
To be a Digital Edge "green" project and financed by a green loan, the project must meet certain environmentally linked eligibility criteria. The green loan is structured referencing the latest Green Loan Principles published by the Loan Market Association, Asia Pacific Loan Market Association and the Loan Syndications & Trading Association. The financing consortium includes both international and domestic banks and the loan will be issued in two tranches, a fixed tranche and a floating tranche over a 5-year term. The joint Green Loan Co-ordinators for the financing were Crédit Agricole CIB and ING Bank N.V. ("ING").
Carmen Tsang, Head of Sustainable Investment Banking for Greater China at Crédit Agricole CIB, said, "We congratulate Digital Edge on the successful launch of its first-ever green loan, aligned with the Green Loan Principles, with proceeds dedicated to its energy efficient data center project in Seoul. This transaction sets a commendable benchmark for the sector, demonstrating Digital Edge's dedication in sustainable innovation, and highlights their contribution to developing greener digital infrastructures as the essential part of Asia's decarbonization journey."
Martijn Hoogerwerf, Head of Sustainable Finance APAC, ING, said, "ING is honored to act as Green Loan Coordinator in Digital Edge's first sustainable financing. The data center financing will further enhance Digital Edge's rapid growth, and boast best-in-class energy efficiency, thereby reducing its carbon footprint. At ING, we want to create a positive impact in the net-zero transition and have set ourselves a target for sustainable finance volume mobilized. We are proud to partner with like-minded firms such as Digital Edge in our commitment to this ambition."
About SEL2
Located in Bupyeong-gu, Incheon, this 100MW data center will be the largest commercial data center project in South Korea. SEL2 will provide a natural extension to Digital Edge's existing carrier dense location in SEL1 to bring a wealth of connectivity options to existing and future customers. Expected to be Ready-for-Service in Q3 2024, the first phase of this new facility will be based on Digital Edge's next generation architecture and designed to meet fast growing demand from local and international cloud providers, as well as other high power density applications. The company previously announced this project in April 2022 and has already secured an anchor tenant for the first phase of the facility. Expected total project costs for the entire campus will be KRW 1 trillion, or approximately USD 1 billion.
About Digital Edge
Headquartered in Singapore, Digital Edge is a trusted and forward-looking data center platform company, established to transform digital infrastructure in Asia. Through building and operating state-of-the-art, energy efficient data centers rich with connectivity options, Digital Edge aims to bring new colocation and interconnect options to the Asian market, making infrastructure deployment in the region easy, efficient and economical.
Digital Edge was founded by a seasoned senior management team with decades of industry experience and an established track record of value creation in the data center, cloud and telecommunications industries in the Asia Pacific region. Backed by leading alternative investment firm Stonepeak, Digital Edge has in excess of US$1 billion in deployed and committed capital, establishing itself as a market leading pan-Asia data center platform. The company provides data center and fiber services across Asia, with a presence in China, India, Indonesia, Japan, Korea, and the Philippines.
You can read Digital Edge's 2023 ESG Report here. You can find more information about the company at www.digitaledgedc.com.
About Crédit Agricole Corporate and Investment Bank ("Crédit Agricole CIB")
Crédit Agricole CIB is the corporate and investment banking arm of Credit Agricole Group, the 10th largest banking group worldwide in terms of balance sheet size (The Banker, July 2023). More than 9,400 employees across Europe, the Americas, Asia-Pacific, the Middle East and Africa support the Bank's clients, meeting their financial needs throughout the world. Crédit Agricole CIB offers its large corporate and institutional clients a range of products and services in capital markets activities, investment banking, structured finance, commercial banking and international trade. The Bank is a pioneer in the area of climate finance, and is currently a market leader in this segment with a complete offer for all its clients.
About ING
ING is a global financial institution with a strong European base, offering banking services through its operating company ING Bank. The purpose of ING Bank is empowering people to stay a step ahead in life and in business. ING Bank's more than 60,000 employees offer retail and wholesale banking services to customers in over 40 countries.
ING Group shares are listed on the exchanges of Amsterdam (INGA NA, INGA.AS), Brussels and on the New York Stock Exchange (ADRs: ING US, ING.N).
Sustainability is an integral part of ING's strategy, evidenced by ING's leading position in sector benchmarks. ING's Environmental, Social and Governance (ESG) rating by MSCI was reconfirmed 'AA' in July 2023 for the fourth year. As of August 2022, Sustainalytics considers ING's management of ESG material risk to be 'strong', and in June 2022 ING received
an ESG rating of 'strong' from S&P Global Ratings. ING Group shares are also included in major sustainability and ESG index products of leading providers Euronext, STOXX, Morningstar and FTSE Russell.
Society is transitioning to a low-carbon economy. So are ING's clients, and so is ING. The bank finances a lot of sustainable activities, but still finances more that's not. See how ING is progressing on ing.com/climate.
Media Contacts
Digital Edge
Liane Cresswell, Director Corporate Communications
Liane.Cresswell@digitaledgedc.com
+852 5503 2522
[1] According to BloombergNEF data (August, 2023)